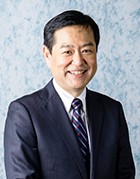 President's Message
 Our society is an academic association established in 1954. As of May 26th 2018, we have 4,681 members.
 Social welfare studies is an academic discipline that is based on the values of social welfare and its unique perspective involves both policy and practice, as well as the interlinking system between the two. Specifically, values refer to basic principles such as everyday culture, quality of life and understanding of clients. Meanwhile, policy is not restricted to legislation, but involves planning, systems for participation and service provision. Finally, practice consists of interpersonal support for problem solving and community support engaging the community where the problem is stemming from. These practice methods have social work at their core.
 Understanding social welfare studies requires knowledge of personal values and social structures, and awareness of the relationship between the personal and the social. The history of the individual and society is divided into two categories. First, there is social relationship as 'the condition of the individual'. In general, social relations are the result of interaction of people's will and social reality. Another category is 'the condition of society'. While 'the condition of the individual' is based on personal will, 'the condition of society' is not the result of interaction of people's will and social reality, rather restrictions and ways expected by society when people form social relationships. Furthermore, the physical living environment, regional culture and climate, ethnicity, religion, customs, ethnic and local historical traditions impact on the interaction between people's will. Hence, the way how the individual engages these with inner agency has a definitive effect on 'the condition of the individual'.
 Yet, there are more and more people in contemporary society who cannot exercise this agency and end up isolated or withdrawn. The most serious problem faced by them is that they cannot find a place for 'mutual recognition'. The discussion of such a place for 'mutual recognition' has a renewed focus recently in the field of social welfare studies, and there are arguments that 'misrecognition' should be dealt with by the enactment of official anti-discrimination legislation. To respect diversity in a society that has independent individual at its foundation, it is necessary to become aware of oneself, understand differences with others, and mutually recognize each other. This must start from recognizing the fundamental value of being human and is closely related to the inherent right of human beings.
 At the Japanese Society for the Study of Social Welfare (JSSW), we are engaged in research from various perspectives to build and society where everyone's human rights are ensured through mutual recognition of diverse values between all citizens. Moreover, we are engaged in the following activities: organization of academic gatherings (annually two national conferences and JSSW forums in regional blocks), publication of the society's journal Social Welfare Studies (four times annually) and our English e-journal Japanese Journal of Social Welfare (once annually), presentation of the JSSW Award (Academic Award and Incentive Award), exchanges with related academic association in Japan and in other countries. We particularly focus on international academic exchange and have been engaged in tripartite exchanges. In addition to academic exchange with the Korean Association for Social Welfare Studies, we have also built ties with the Social Welfare Research Committee of the Chinese Sociological Association.
 I sincerely hope that many visitors will learn about the appeal and depth behind social welfare research and join us in our quest for 'social welfare as an academic discipline'.